It is time again for our bee school, this is one of the most fun events that we as a club put on. We get to educate people about honey bees and introduce them to the world of bee keeping.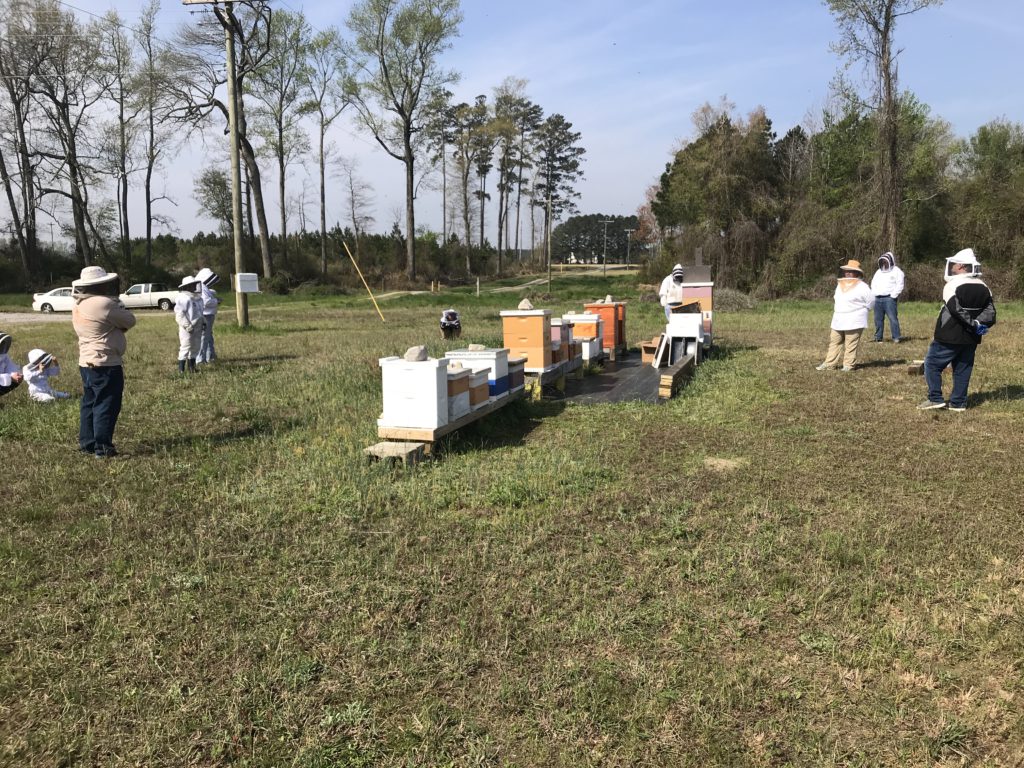 Our goal for the class is to teach you about honey bee biology, their importance to the environment and the food supply, how you can help honey bees and last but not least, how you can start keeping honey bees in your own back yard.
The class is organized as a session on a Saturday in the classroom. After the classroom session, we will do three hands-on days in our club apiary where you will get the opportunity to do an inspection of a live hive.
It is important to note that once you take the class and you are a member of the club you are welcome to come to as many of our apiary days as you want. Your learning adventure does not end once the class is over. We normally do them every weekend during the busy season and you will get to participate in all the different activities that you will do as a beekeeper, making splits, collecting honey, checking for mites, treating for mites, and everything in-between.
We highly recommend that you read The Backyard Beekeeper by Kim Flottum before the class, it is a great book and will set up you to be able to connect the dots when you listen to our speakers talk about honey bees. The book is available at Sapony Creek Apiaries in Rocky Mount or on Amazon.

Kim Flottum brings a background of more than a decade of plant science, honey bee research, and basic farming to his 30 years as the editor of Bee Culture magazine, where his main occupation is finding the answers to the multitude of questions that beginning, intermediate, and even advanced and experienced beekeepers bring to the table. He teaches beginning and advanced beekeeping courses, travels extensively to educate and lecture, and contributes to a variety of other publications on the basics of honey bees and beekeeping biology, the business of bees and pollination, producing and using varietal honeys, and a host of other subjects. He is the author of The Backyard Beekeeper, The Beekeeper's Journal, and In Business with Bees. His books, magazine articles, interviews, and blogs are widely read for both their fundamental and advanced contribution to beekeeping knowledge. His magazine platform gives voice to his social commentary on topics ranging from genetically modified foods to pesticide abuse to both good and bad government regulations in the industry. He is beekeeping's leading advocate for fundamental honey bee safety, including insuring excellent honey bee health, providing extraordinary forage, and minimizing the use of agricultural pesticides.
We will also be offering an opportunity to take both your written and practical tests for the Certified level of the Master Beekeeper Program which is a program that the North Carolina State Beekeepers Association runs to encourage beekeepers to grow and learn more about honeybees. You can take the written test right away, but you have to have a minimum of four months beekeeping experience is needed prior to taking practical test.
When: March 12th from 8 am to 5 pm with a lunch break in the middle.
Where: Wilson County Agricultural Center
Cost: $60 per person and that includes membership to the club for 2022 as well as lunch.
Click below to sign up.